The 12th Man
On May 1st, Transition's Gate hosted it's second annual fundraiser at the DoubleTree Hotel in downtown Spokane. Head football coach for Washington State University, Paul Wulff, and Paula Oprea from Romania, were the featured speakers.
Sherry and Coach Paul Wulff, Paula Oprea, Nancy Mortlock and Brian Rodgers
Though sensitive and personal, Coach Wulff so passionately shared his personal story of tragedy which included the dramatic death of his mother and his first wife. As can only be told by someone who has survived this kind of personal loss, Paul described the horror and then the destruction the unexpected death of his mother caused in his family and his personal life.
Paul understands now that, had his own mother had access to counseling about domestic violence or other resources that a women's center can provide, his life, and certainly the life of his mother and brothers, may have had a significantly different outcome.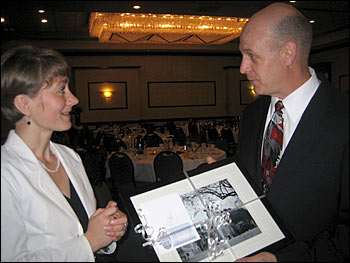 Paula Oprea and Brian Rodgers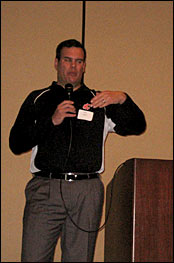 Coach Paul Wulff