How to help
While understanding the destructive effects and increasing incidence of domestic violence, we are personally challenged to get involved in a solution to this destructive problem. As you partner with us, your contribution can change the life of many women and children who suffer in silence and forgotten hope.
Volunteer
Volunteers, who agree with our mission and values, are welcome to have an active part in the process. Choose any of the following:
Counseling (Bachelors or Masters degree)
Psychological Counseling (same)
Social Counseling (same)
Public Relations & Community Liaison
Advertising
Receptionist
Child care for mother's in counseling or group therapy
Maintenance
Janitorial
Security
Due to the sensitivity and confidentiality of this organization, preliminary training is mandatory for all volunteers. The initial training involves specific education and training about domestic violence and its consequences for women and families. Further training will be determined by the interests, ability and talents of the volunteers.
For more details, those who are interested can contact us.
A Cup of Tea & Silent Auction
Tickets are $25 per person
RSVP by May 13
Enter your payment information by clicking on the link above.
Or, send payment for tickets to the address below.
Transition's Gate, 12402 N Division, #248, Spokane, WA 99218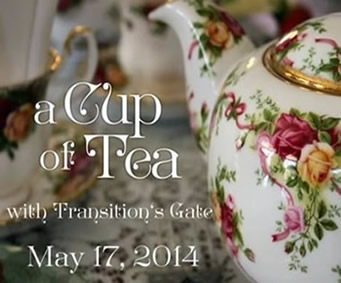 "Transition's Gate" is a Washington State 501(c)(3).
100% of all donations go directly to the services provided for the women and children seeking safety from domestic violence and human slavery. Transition's Gate is operated by a volunteer board of directors and has no paid staff.