Counseling Center
Now into it's third year, The Counseling Center for women and children is very busy with all of the activities originally planned and additional programs offered from time to time by visiting professionals from America.
In July, 2013, an American team of medical professionals visited Ploiesti, bringing a variety of specialty workshops, medical clinics, and informative presentations.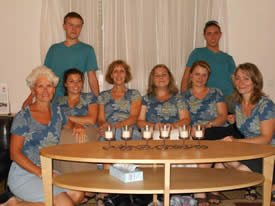 Medical Team 2013
One of the first classes offered in July was an English Class, taught by two Americans who challenged the participants to learn basic English phrases needed if traveling to an English speaking country. Participants enjoyed learning basic phrases and practiced them in a practical context. Laughter and enthusiasm were contagious.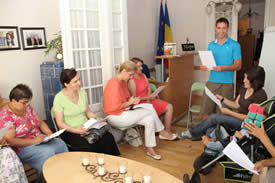 Brock and Katy facilitated this class of English lessons.
Simultaneously, a more intimate workshop for women met in another room of the Center. These women came to learn the theory, practical coping mechanisms, and helpful interventions about eating disorders. This was informative and helpful for the women who attended.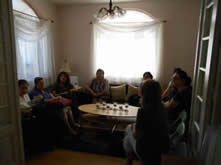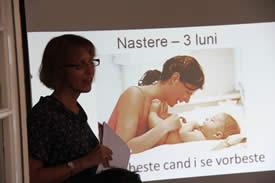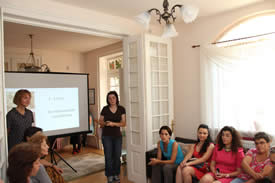 Shelly presents a workshop to young mothers on Early Childhood Development. (above)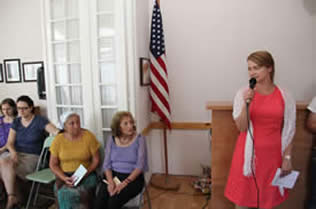 As featured speaker at the Women's Tea on Saturday, Katy shared her compelling personal story and her years of recovery, through God's love and abiding grace, following many years of brokeness as a young wife and mother.
The Medical Clinics in Rural Romania, 2013
By weeks end, the American team had served hundreds of Romanians in rural medical clinics. Both both young and old came with their medical problems.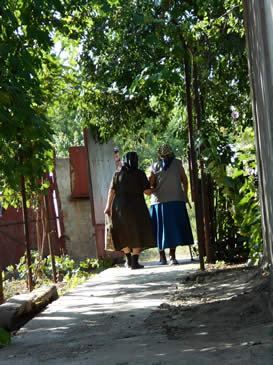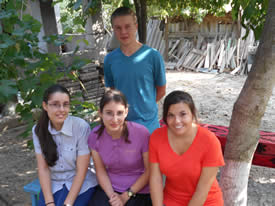 College students from both Romania and American helped one another communicate with the patients who came seeking medical help.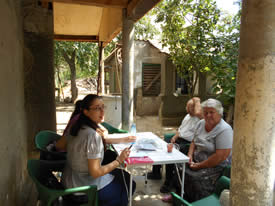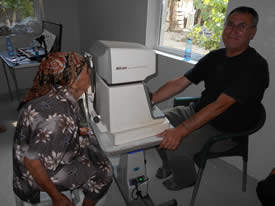 Optical specialists from Slobozia brought sophisticated diagnostic equipment to the villages to diagnose for corrective lenses. Hundreds of villagers received complimentary diagostics and eye glasses.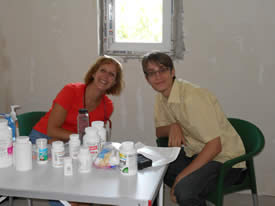 Brock and his young friend share a moment of enthusiasm for American football. (left)
Shelly Knox Quinton and her Romanian prepare their exam room for a busy day in this rural clinic. (right)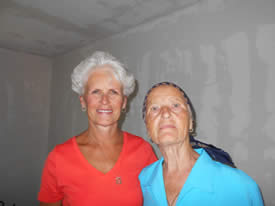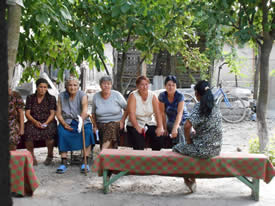 Nancy receives an encouraging compiment from one of the seniors in the village. This woman voiced her gratitude for the medical team.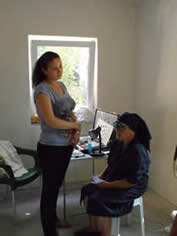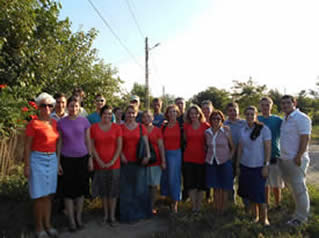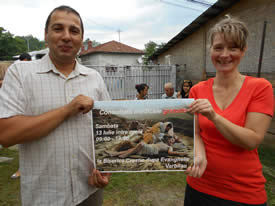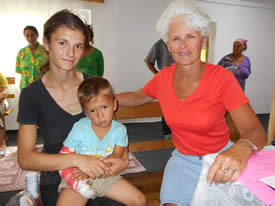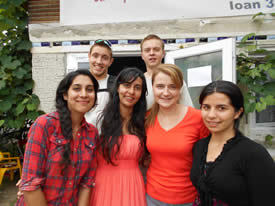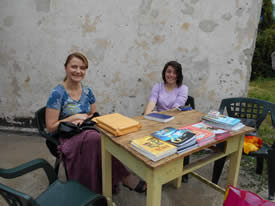 Katy and Laura prepare to counsel with any of the villagers who have express a desire for help. (right)
These dynamic Romanian young people have a real ministry with the young people in their village. The Americans were impressed by the commitment shared.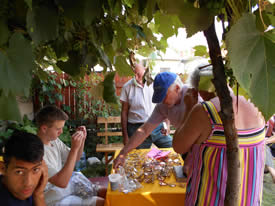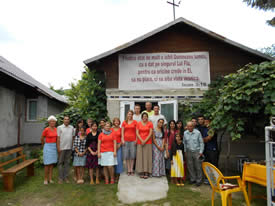 The entire team celebrates the day's end after helping more than 400 villagers from this remote rural area of southeastern Romania.
The Josphine Knox Counseling Center
The remodeled women's center below is the current site of the counseling center for victims of domestic violence, human trafficking and other acts of aggression.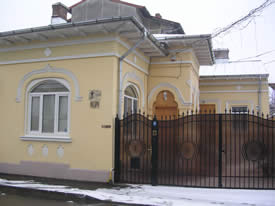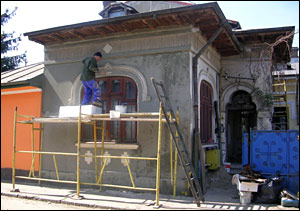 A woman's counseling center is the first step in Transitions Gate's three-phase project in Romania.
The picture to the right was the center while in reconstruction in 2009. Transition's Gate has funded this start up operation in Ploiesti, and celebrated the Grand Opening on April 22nd, 2010.
Read about the grand opening event
Although the program's primary function is not to manage client and family crises, the staff is educated and trained to identify and manage these difficult situations. In addition, all participants are given clear perspective on their current situation and assistance finding the resources to achieve their goals. Based on the empowerment philosophy, the goals of counseling are to increase the women's coping skills and to offer the support, encouragement and resources needed.
Social Counseling
The social workers assist in assessing the needs and goals of each woman, then help to identify their respective strengths and talents to achieve their goals. Jointly, this team drafts a treatment plan.
Psychological Counseling
The program's participant has two options: support groups or individual counseling.
Individual Counseling
Individual counseling focuses on the person's feeling and emotional state but also on her needs. Counseling provides the necessary education regarding the myths, realities, and dynamics involved with domestic violence as well as necessary coping skills for stress management.
Support Groups
The support groups provide a safe environment for sharing (small number of participants, same hour and place for meeting). The participants have an opportunity for personal growth, socialization, education, prevention and/or to work toward a group goal. In addition, the women are encouraged to express themselves, share their experiences, and connect with peers.
Legal Counseling
The participants receive information about the legal system, their rights and options for assistance. Compassion & Care staff explores, with the participants, the pros and the cons of each individual's situation. After the participants make a decision for positive change, as necessary, they receive supportive instruction for mandatory court forms. The women are accompanied to Court by their attorney and the center's security.
Alcohol Recovery Programs
Alcohol recovery programs for alcoholics and families and loved ones of alcoholics has just been added as a weekly program at the center. These support groups will meet the needs of children and adults who are suffering from the trauma of alcohol addiction in their homes.