Compassion & Care, Ploiesti, Romania
In Eastern Europe, Compassion & Care is training staff and volunteers to mentor women and provide counseling to children, women and families who long for restoration in their home. With common goals, Transition's Gate is providing funding, project oversight and advise for Compassion & Care. For the foreseeable future, we will partner to create a network of resources for troubled families in Ploiesti, Romania.
Compassion & Care will help provide:
Social assistance
Medical evaluation and/or education
Spiritual counseling
Legal assistance
Risk avoidance training
Visit Compassion & Care's Website
---
About the Director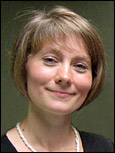 Paula Oprea
Paula Oprea, the Director of Compassion & Care Association of Romania, is busy with all of the details and issues of a new business. Since the completion of the remodel of the building purchased for the women's center, Paula manages the staff, administrative duties and the current pursuit for accreditation from the social services branch of the federal government of Romania. The grand opening on April 22nd, 2010, was the result of many, many hours of hammering, scraping and painting combined with a generous lesson in patience.
Paula was born and raised in southeastern Romania. As a young girl, she was subjected to the harshness of the communist dictator, Nicolai Ceausescu, who ruled in Romania until 1989. She completed high school in Slobozia, and attended the university in Bucharest to study world culture and world religions, graduating from the university with a BA degree.
Counseling women and families, visitation, and the leadership training of young women became her passion. Paula was largely responsible for the upbringing of her two younger sisters in the sudden absence of her mother, a time when life became very difficult.
For much of her adult life, Paula lived with a desire to become more involved in her community's outreach to women who were subjected to domestic violence, abuse, poverty and corruption. Counseling many women of all ages through her years in ministry, Paula was disappointed and frustrated that Slobozia did not offer any refuge or counseling services to the desperate women all a round her.
In 2004, after serving for years as a medical translator, Paula and her good friend from America, Nancy Mortlock, began to explore a venue for ministry among this growing group of women who need a pathway of hope and restoration from a life of tragedy. It is Paula's goal, along with a well trained staff, to assist with training and counseling for women and families and provide guidance and restorative skills to women who may have no other opportunity to become self sufficient women. This center for women and families, is the outgrowth of Paula's years of passionate prayer and persistence.